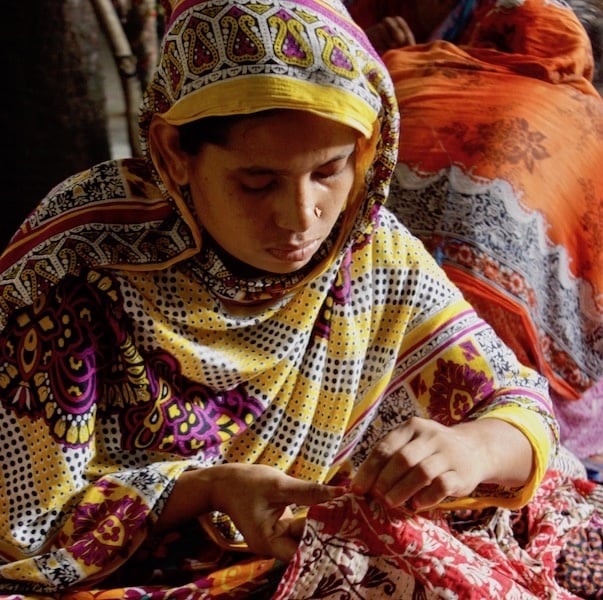 One of the many treasures in our store are the KANTHA QUILTS from Bangladesh. These bright and beautiful blankets, throws and robes are made from 3-5 layers of recycled saris, hand-stitched by women in BANGLADESH and truly ONE-OF-A-KIND. 
Since we began our journey at MONDO back in 2015, we have been supporting two groups of women in Bangladesh...one group makes our blankets and the other our robes.  Kantha is a traditional form of embroidery that is popular in Bangladesh and the Indian states of West Bengal.  
For hundreds of years, women in India and Bangladesh used Kantha stitching to create something to keep them warm. Using a small, straight running stitch, they took old pieces of cloth and sewed them together to create blankets, throws, scarves and shawls. 
MONDO helps to provide work for Behari women in the northern district of the country called Nilphamari, who otherwise would have very little or no income. These women are provided training in new techniques to help them expand their skills. They work in a safe environment and are given a fair wage, which helps them take care of their families and send their children to school.  
A king size Kantha blanket takes about 45 to 48 hours to make, a queen size blanket about 32 to 35 hours. The saris are collected, checked for their quality, selected by colours and patterns, hand washed and dried in the sun. After the saris are stitched by hand, the blankets are washed and dried again and ironed before they are shipped to our store on Salt Spring Island. 
What started with blankets, duvet covers and throws, soon expanded to other products such as cushions, laptop and iPad cases, cell phone cases, toiletry and cosmetic bags and robes. 
We are absolutely in love with the Kantha quilts...they are so soft, colourful and cozy.  When we travelled to Bangladesh, one of the poorest countries in the world, we saw that we can really make a difference for these women. They need our support and that's why we decided to give 10 percent of the net proceeds of the Kantha products back to the community.
Thank you to those who decide to support this project and experience...
the TRADITION of KANTHA!